It's time to start identifying ideal facebook leads for your biz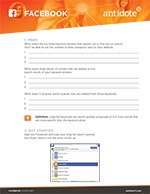 If Facebook is a part of your marketing strategy, are you using it to identify and approach leads? And are you maximizing what you share to increase engagement? If not, you should be. We can help.
In this two-page workbook, we'll cover how to identify and approach ideal leads for your business via Facebook.


We walk you through:
Identifying ways people will likely find you on Facebook
Aligning your content to keywords people may use
Identifying other pages where your customers may be
Taking appropriate action to engage with prospects